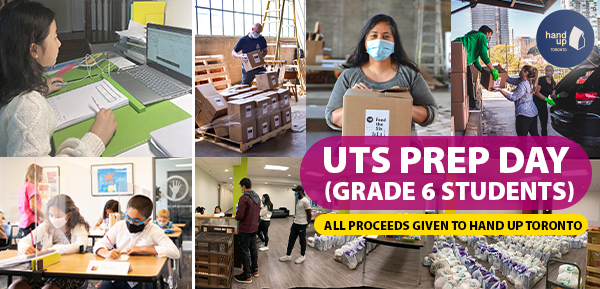 Grade 6s, are you ready for the University of Toronto Schools (UTS) Prep Day at Spirit of Math?
It is being held on Friday, 15th January, 2021 from 9:00 am to 4:30 pm.
Each year, Spirit of Math holds a math and interview skills preparatory day for grade 6 Spirit of Math and non-Spirit of Math students entering the second round of interviews for the UTS School. A fee of $250 applies for the full day session and $130 for a half day session, inclusive of all course materials for the day. All fees collected from participating students are given to charity.
Held for the first time in 2002, the UTS preparatory course is always a special occasion for the Spirit of Math team. With "compassion" as a core character trait, the Spirit of Math staff and teachers readily donate their time on a voluntary basis to teach this workshop. In addition, the behind-the-scenes team who create content for this course and spend the day with students also volunteer for a charitable cause. From the inception of this course, all fees collected from participating students were donated to the Gwen Ledger Memorial Fund, a fund providing an annual scholarship for post-secondary education to one individual each year, assisting them in becoming employable.
Since 2019, Spirit of Math is supporting Hand Up Toronto, a charity serving the Greater Toronto Area since 2014. Hand Up is striving towards a society where all individuals have access to nourishment, regardless of resources. It aims to foster growth and productivity by securing nutrition and offering meals to all in need, regardless of race, sex or creed. According to Hand Up, a contribution of $250 feeds 8 families of 4 for a month. Handouts given to families in need include 20 lbs worth of dried goods, hygiene products and masks as well. To find out more about the wonderful work being done by Hand Up Toronto, please click here.
University of Toronto Schools is an independent, storied, and historic institution that prepares high-performing students for some of the top university programs in the world. The downtown campus is reflective of the GTA, drawing some of the best and brightest from around the ever-expanding city of Toronto.
We wish all participating students the best of luck during the admission process and look forward to an amazing day of preparation!