Helping Hands in Uganda with Phibby Otaala
Spirit of Math Podcast
Episode #5
In this episode, hosts Kim Langen and Nathan Langen speak to Phibby Otaala, the Ugandan Ambassador to Kenya, a humanitarian and a strong driving force for education and social uplift in her community. Phibby traces her journey from humble beginnings, being born in a slum near the Ugandan and Kenyan border and how hope, grit and determination helped her overcome adversity. Her charity Helping Hands is deeply involved in social welfare and education. Discover the alarming situation in Phibby's community brought on by COVID-19 and what you can do to help.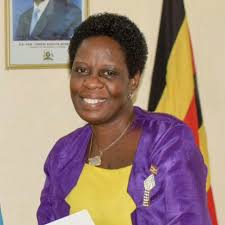 About Phibby Otaala
Phibby Otaala is the Ugandan Ambassador to Kenya, a humanitarian and a strong driving force for education and social uplift in her community
Transcription
Hi everybody, this is going to be a very different
podcast that we're going to be doing today because we
are contacting someone who is in Tororo
Uganda, northern Uganda and getting Wi-Fi or getting a connection
is very very difficult so this was pre recorded and
you'll see that they might we actually jump around a
little bit during the conversation because she ran out of.
Of data and she had to go and buy some
more.
So she was sending out somebody to run and get
some more data for her in the middle of this
conversation.
And that's why it's a little jumpy.
But it's not. This is an incredible conversation that you
don't want to miss.
OK, welcome back to the fifth episode of releasing the
genius podcast where we interview people from around the world
that have made a significant change to the lives around
them and also had a global impact.
So today we have a special guest and the special
guest today is to Phibby Otaala
Phibby is I met her.
Oh, I think it was about 12 years ago or
14 years ago.
Now I'm not too sure.
It was many many years ago and it was through
someone who.
I had worked with in in Canada in Toronto and
he had come over from Uganda and he was and
he told me about this lady who was incredible who
did all these things in his town back at home
in in Uganda in Tororo, Uganda and he said that
this lady and her husband did so much for
their community. So I reached out to her and she
came and visited us in Toronto.
And uh, and told us her story and since then
she has done so much more.
So she's a community leader.
She has started her own charity called Helping Hands, working
with hospitals,
working, starting several schools herself and and also is pretty
amazing because she's also become the ambassador Ugandan ambassador to
Kenya.
Phibby is always working with people,
as you'll see. And also in her story,
I'm not going to give it all away.
You'll hear about how she made it to what she's
doing,
and where she started as well.
So Phibby, welcome and this is a real honor for
us to have you here speaking with us and speaking
to the world today.
So welcome and I thought that what might be nice
if you talked a little bit about the beginnings of
your life to begin with,
and then we can go on to what you are
doing now.
Or if you like, you can start with what you
are doing now,
what your positions have been,
and then we can talk about your beginnings of your
life.
Which one would you prefer?
I would always prefer to start with the beginning of
my life.
OK, thank you so much,
Kim and thank you so much.
Remember that I can see in this meeting.
I'm very, very happy. I'm humbled.
I'm really humbled and honoured
This my first time to be on zoom and I'm
so happy and excited.
I'm Phibby and right now.
I am the High Commissioner,
serving in Kenya and the ambassador of Uganda in Kenya.
Such a very wonderful position that I have achieved in
my life, out of a
a very very humble background. By my dad died when
I was only six years of age.
I lived with a mother who had six other children,
so we were living in the slum
We were both in the slum
In this slum, we were near the border of Uganda
and Kenya,
and you know what a slum is about.
As a young girl, it was so difficult,
but I thank God now.
The church came up and took me up and paid
my school fee
I was so lucky out of this Seven children only
child was given education was me.
It was not easy though because the church could not
give you all that
you need and we also had to go around the
villages digging for people to get some money to add
add on to what we had. I had a very
hard life,
but all the same a very successful life.
a good Christian life we had in the church that
I was in.
I became the Sunday School leader.
I could sing in front of the church every Sunday.
On behalf of the other children and therefore we were
given,
sponsors and sponsors came from abroad,
just like you can come to Africa and say I
want to help an orphan and this one has picked
him up and he started paying my school fees.
I went through out of the 500 orphans that when
one project only 270 could go up to the end,
the rest who are girls.
Who are among who are girls always conceived?
at an early age they had pregnancies, others were raped,
others were defiled,
others due to the smuggling. Because you know,
along the border, very many young children are sent to
the child labor and they do a lot of smuggling.
All these bad, inhuman activities affected education for me.
I was so lucky. I really thank God that I
went through. So after getting my education on I decided
to join the Uganda Red Cross Society.
as a volunteer at the age of 14.
So this gave me an opportunity.
to do humanitarian activities
Learning how to do first aid and then we had
this bad war of Uganda in 1986 where people died
a lot and were taken as young volunteers to do
counseling as site psychosocial support and talking to those who
had lost their relatives.
We also did family tracing and I got a lot
of exposure out over.
And through Red Cross I felt my life was going
toward humanitarian activities and then I.
Went back to school and studied mass communication so at
the end of my diploma in mass communication.
So the Red Cross identified young youths could go to
Europe to do exchange programs because so many youths who
had come down to Africa to do exchange,
we also could go to Europe and do my work
in Europe.
At the age of 22 was just do to help
the Rwandese
refugees because of the Rwanda genocide.
In 1994 I would now done helping the refugees to
understand what the communities in Denmark would offer them.
I could speak Rwandese I could speak Swahili.
I speaking the Ugandan language which is related to Rwandese
and translate it to English and I stayed there for
like 6 months and when I lived there I just
said.
Oh God, who am I from the slums,
the state? How comes this is happening when I get
back to my community I'll be able to start a
charity and I tried to
lend a helping hand. It'll be called helping hands.
And then I also had another called hands of hope,
so helping hand was the school because of the slum
I wanted to give a helping hand to another child.
I always felt I should help another one.
Could be like me he started so then I went
on with that.
Then I went to hands of hope and I told
the community you must always live with hope.
And they studied at an organization called hands of hope
Look what happened. I then joined
I started to charity and when I traveled to Canada
in 2007,
that is when I became a friend of Madam Kim
Now Kim become my good friend and you motivated me
so much by encouraging me and telling it is worth
while
to help another person and I came back home and
I was so happy that I was given a good
job.
The community then took me to add the leadership and
they said now you are going to organize us I
was then given to work.
as the speaker of the council you know I was
speaking for the rights of the women and children and
then also helping the people who are living positive with
HIV aids. You know, our community has been eroding so
much with HIV,
aids and every would help a child on the street.
You would find out why this child is on the
street
The next step will hear this child is living in
the slums and life in the slum is hard
cause
the mother is single.
The mother single cause your father died and the Father
died because of HIV aids and because of that there
is no food
So we started in the holistic approach of uplifting the
community.
Then I was I was able to do the service
whoever people until the president.
identified me for this job.
Over but before I became ambassador,
I studied international relations and diplomacy at degree.
I went back to school to the degree after 10
years when I was in the community.
It wasn't also easy because I was now a mother
at the same time,
a University student. I even had my
My second child just after two weeks I was doing
examination,
but I'm a very strong woman and I love it.
I always went through my exam and now I am
the Ugandan
High Commissioner in Kenya. Soon I am going back to
the community to serve again because I feel my heart.
Within the community. Oh my God.
Thank you so much. What a story Phibby and you
said so much so quickly and behind.
So much of what you said.
There are so many different stories.
before I go dig down now a little bit into
these stories.
Where are you right now?
Where is this garden? Are you in Tororo or are
you in Kampala or in
Kenya or where are you?
I am back in Tororo because of this COVID-19 I
decided to come back home.
And when I came back home for a short time.
The lockdown caught me here,
so I am in the village down in
Tororo You see that for you can see the sun
is setting down.
You know it. It's 9:30 where I am in the
morning in Saskatchewan Province in Canada and Nathan is in
Toronto so is 930 here in it's 6:30 PM.
There. That's very nice. Good timing.
OK, so you're in Tororo?
And what is the situation?
Yes, good. Can you just talk a little bit about
like you were able to achieve these things?
And yet despite there are so many other people who
also were able to get some initial education,
you got chosen somehow to get education to be educated,
to be funded for education to begin with.
And then there are so many other people who were
too but you somehow kept moving up and up and
up yourself.
What do you think? You could share with students an
with other adults.
What was it that allowed you to keep going even
despite all the hardships?
Why? Why, what did you do that would be different
than others?
Or what? Or what did you do that?
Perhaps you know, drove you through all of this,
'cause there's so many things that you went through.
First of all.
I always accepted this question that I'm in.
Whenever life would always be hard,
I always had hope that is a better tomorrow.
And I always moved on.
With the support of my mom.
And I always knew. That's.
I'm not the only one in the world who is
facing this.
But above it is determination determination.
I worked hard in school and I'm always hopeful,
very ambitious and always Believing that there's a better tomorrow
and teamwork also,
I'm not alone. I'm not alone.
All these achievements that I've had,
I've always had other people near me who are in
the same situation like me
When we better special. And then I have to support
them.
And I've also been motivated by those with whom I
shared with my stories.
No one's ever let me down.
People always come up, I said we shall be there
with you and this and that and a whole is
moved very,
very well. Yeah, different things.
Determination, working hard, having a team work and respect humility.
Someone who's much interested and for the children,
especially if they would love to get get what,
no? They would like to progress at least successful.
They have to respect their parents they have to listen
to their teacher.
They have to work hard and did not have to
be diverted by groups.
There's a lot influence and peer pressure.
As I was telling you I grew up in the
slum.
Very many girls who were my friends did not complete
school because of peer pressure.
They were taken up by groups.
They were told only good stories about leaving school would
be better off to leave school.
Looking at money you get rich so I did not
look at that.
I just went on, listen to my teacher,
listen to my parents and the church
I also went so much just to church and they
played a big role in the society and I was
reading a lot.
I was reading. I want to like I.
I like to read a lot.
I like to see things happen.
What type of books then did you read?
Hey, I've only read leadership books.
I wanna see that the community needs a very good
leader.
Someone would always stand up for the rights of the
rest.
Someone who does stand up and defend them and someone
who sacrifices time and someone who loves be there to
speak with them.
Like now my sister, you know this COVID-19.
We all affected. I know you there you also affected,
but the levels of uh oh,
how we affected cannot be the same.
This community where come from when you said it.
They locked them. People have no any other income.
These people are poor. these are people who are living.
In less than a quarter dollar a day.
And there is no way they can get any money.
So you find that someone must be the committee like
me.
I really want to thank you so much.
I really thank you, Madame Kim.
I was. It was so hard for me to share
with you that people were dying in the hospital,
not of Corona, but the effect of Corona.
People did not have food.
You know they want medication
And then in our lockdown,
there's no movement. Nobody bothers.
There are motorcycles that carry people to and from the
hospital.
So thos that are in patients and admitted there.
Especially delivering mothers could never be visited and they were
starving
So I came up. And I started talking to you.
I remember the beginning was very difficult.
You also have this situation that the income was not
so good,
but with the little you had shared with that you
gave us food.
You gave us water you gave us oh my God
sometimes when I think of this I get emotions
forgive me, you gave us everything that we asked you
in the shortest time.
And when we use the all we had again we
would say now we're sorry the situation is again bad
again.
then you talked to Darrin and you sent us money
and we again stocked the food.
And the food we eat here.
We do not eat expensive food,
we just eat to live on, more over a meal.
You will give a patient a meal and a patient
asked what about dinner and we said no,
you take that and that is all
Even the patient caretaker,
may not eat because the food is only for the
patient.
But if you did ask a lot of pride that
people could walk out of the hospital and say I've
come to say thank you so much,
Phibby and thank your friends so much for giving us
to step forward.
So.
The books I have read are
I always focus on leadership and good leadership and standing
up for the community.
Now this is Corona is still bad is even now
West.
They they did, which is increasing and there is no
solution.
Nobody knows what is on tomorrow and yet people are
there now.
We can't even keep on begging.
It is, it looks so embarrassing to keep saying we
still need we need.
So sometimes you have to just go on and so
we don't know what tomorrow will be like.
Yeah, but I thank you so much.
Is our education being done in Uganda right now,
with everything that's happening? Is there an
y education happening?
No, and there is no hope for education for this
period because actually I really thank our president so much
Is the oldest president this video,
and he has kept this country.
Stable as far as the treatment and managing of Corona
cases.
One of the things that he had said,
social distancing. Using masks,
everybody must have a mask and he has avoided mainly
children.
He has insisted that the 15 million children of Uganda
will not go back to school because if only one
kid brought Corona in the setting of his school,
the whole school will be affected and the whole understood
and go back to different homes.
They will take back to the community and the food
that comes out on a break of that outbreak like
that.
We will not have will not help us into.
The hospital that I go to for physiotherapy.
Now that's not even have oxygen.
Equipment. We do not even have enough beds if we
can't,
even we didn't have enough before Corona hit.
If you get an outbreak of corona here.
At that everybody is now impacted.
Then we shall I fear, more people will die than
people died in Italy.
That's why the children are not going to school and
they only idea the president is saying.
We should start teaching children in the villages in the
communities,
maybe under the tree they are trying to give teaching
manuals in homes,
but the parents are also illiterate and they cannot read
what the children are given.
So with education it will be until next year,
but I've had many people saying we should.
talk to NGOs that can support us so that teachers
teach within their localities and within their compounds or their
homes are group of 20-30 young young children around there.
That is if we even have tried to give masks
to children below the age of I mean from the
age of 6 and onward
but you know a kid of 10 years in Africa
may not understand the mask.
They went through the mask,
they are putting the masks on their head.
They put on their legs,
they're playing. They don't understand why this piece of cloth.
Is in their mouth. So Phibby for all the listeners
that are here,
how could they support your community in education?
I have this idea. That seems most of these children
who are from school.
Below the age of 11,
the majority who are playing around community 11 to towards
4 years.
We will get that University students who are also not
in school.
The seniors not in school,
seniorsstudents and the teachers in the areas.
We will give them one or two weeks support training
in basic education and managing of children so that we
come together as in in small groups in communities and
we teach our children. We develop some manuals.
That can help these children because they are loitering everywhere.
It's even risk it for the young girls were from
the age of 11 to 14 who move up late
in the evening.
This girls I have had cases I could make your
video and you see a girl of 14.
She's now pregnant because she is just in the village
doing nothing.
School was controlling her. I'm telling you this is terrible.
So what we can do?
Our organization can work with Spirit of Math
your school, your school to come up with a project
proposal and a small budget.
Then we can look for people who are.
A charity or who are good samaritans,
then they will sponsor through you so that we can
now support the communities
My my idea is that for that we put them
in one place.
We control the children. So really,
having the the children together isn't just for the education,
it's really for their lives so that you can help
direct them and help them focus in the right direction
and you're seeing that is just as important so that
they can become something more and they won't get sidetracked
and get pregnant or other things that are even worse.
So I see that that's,
you know, that's your real concern right now.
You also had some other ideas I heard.
2 from you, and somehow you know using these these
University students who aren't going to University right now and
maybe teaching them how to teach as well so that
you have many more teachers and not you already have
lots of Teachers,
but even more if there is some way that we
could train these other University students,
you would all the sudden have multiple like your exponentially
increasing the number of teachers,
and then they could meet with the smaller groups of
children because this is the other problem right now with
coronavirus.
Is how do you get enough people to be able
to teach in smaller groups?
So that would be if anybody out there has an
idea,
has another idea to a love to hear about it,
because this is critical here and
It's not just. It is throughout Uganda.
I know that Phibby does represent Uganda is a much
bigger in a much bigger scope also,
and I think that there is.
She's got a real close eye.
And what's happening in education there,
particularly with girls education because of the sensitivity around that.
And also she's got an idea of really how the
economics around a community works as well so that she
could really give a proper proper direction to any of
the ideas you suggested. Funding as well,
and I think for funding it would have to be
a very solid idea on what to do.
So if you've got ideas and the funding joined together
will give something very good.
So I really appreciate this Phibby.
I think one more thing I just like to hear
from you very,
very quickly is as an ambassador for other other people
listening.
What types of things are you able to do or
what?
What are you doing for Uganda to like as a
representative of Uganda?
What does an ambassador do just in terms of having
kids?
understand what that position means.
Oh, thank you. An ambassador represents the president in another
country.
I represent the President in Kenya
An ambassador is somebody who promotes interest of his or
her country in another country.
How do I do that?
Uganda and Kenya. We are the trading allies in the
region.
We are six countries that make up East Africa.
But also the six countries Uganda and Kenya
we're more close in business wise because they.
there is the Port of Mombasa where we get all
things through the sea from all your countries of Europe
or Canada,
UK. Wherever they go to the sea and where the
containers come through the sea to Mombasa
First, it ships to Kenya and Kenya sends to Uganda
Therefore, my work as ambassador I have to see that
this good trading.
culture. I promote the peace and tranquility in the region
that we do not have fights at the borders and
ensure that dedication we share education systems.
Some Ugandan students come to Kenya and Kenya students go
to Uganda and is my work as ambassador to see
that we share students and we give them good
environment. We share teachers we share so many common things
in education and also we also share investments.
If an investor comes from CEDA.
in Canada to Kenya. I develop ties with them at
the Canadian embassy like we will share one embassy.
One embassy covers the whole entire East Africa so one
other side.
So an ambassador from Canada, goes to Kampala,
goes to Nairobi, goes to Kigali goes to Uganda and
everywhere so my work is to work with her or
him to see that we cooperate.
So that's the work of a an ambassador
the work of an ambassador is to lobby
That's why the president chose me.
And Kim, b
y the way,
I want to thank you so much.
OK, well that was that was great listening to her
again.
I think we've got some really good information about what's
going on there and I just wanted to finish off
with two things here.
Nathan. The first is if you've got ideas,
please share them with us because we're ready to go
and to do something to help them.
You can see there's a fantastic leader there,
and it's not just her,
but she be able to help.
Others as well and be able to lead.
And she has the connections with other people not just
in Uganda but throughout all of East Africa.
The second thing I wanted to just leave with is
the fact that many of their listeners don't realize that
I was actually born in Kampala, Uganda and and so
this is another reason why is very dear to my
heart.
Just the whole African continent is actually dear to my
heart,
but it's It's always interesting to hear what's going on
back at my birth country.
She is an incredible person herself,
a mother. A person who has overcome huge hardships come
came from living in the slums.
Was was able to bring herself through school and despite
all odds she has become an ambassador.
She didn't even mention some of the other political things
that she's been involved in representing her country as well.
Her husband, she's she's also a person who started a
couple of different.
Charitable organizations, even despite very little that she had,
she was able to do this.
She talked about reading lots of leadership books,
and she continually the one word that I'm going to
remember is this word.
Hope this is what broader through all of this is
hope the community working with others and again she kept
saying hope,
wow, I think this really takes us to a whole
new level.
In turn everyone to a whole new level.
Nathan, did you have anything you wanted to say?
I think it's just really important to mention about how
different of an ecosystem she's in.
She was talking about. Well,
it children are not in school.
What are they doing there going out?
Yeah, there she was talking about a 14 year old
getting pregnant.
Others going around, getting into trouble and so really it's
just well.
How do we rebuild the community by bringing the children
back together so that the proper leaders can actually direct
them?
Steer them in the right direction and so I think
that if there's anything there are listeners wanted to do
to help,
that were very open to ideas and we can connect
you with Phibby herself.
It sounds great. Nathan and
You're right. There were several wars she talked about.
Right and right now the important thing is to help
the leaders lead them through this difficult situation of COVID
Everyone for listening and will join you next week on
our next podcast.
Bye everybody.